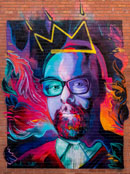 The image of Lyndon Stephens, Belfast's greatest music industry figure, is now part of the city's graffiti culture. Lyndon passed on 10 January 2020 and his loss is still palpable. He gave us Quiet Arch Records and impacted on the art of Joshua Burnside, Ryan Vail, Beauty Sleep, Cherym, Dark Tropics, Ciaran Lavery, Malojian and the Borders project.
One of Lyndon's marketing strokes was to commission a mural of Malojian on the wall of the Oh Yeah Music Centre on Gordon Street, Belfast. This is now paired with an image of himself, re-imagined by the Lurgan graffiti team of Dermot McConaghy and Jonny McKerr. The artists even gave him a Basquiat-style crown. The plan was initiated by Stevie Scullion from Malojian.
"It was Lyndon's idea to put me up there," says Stevie. "He had told me that it would be there for a year and then it had to come down. And I was thinking, if they're gonna paint over it, why don't they paint Lyndon over it?"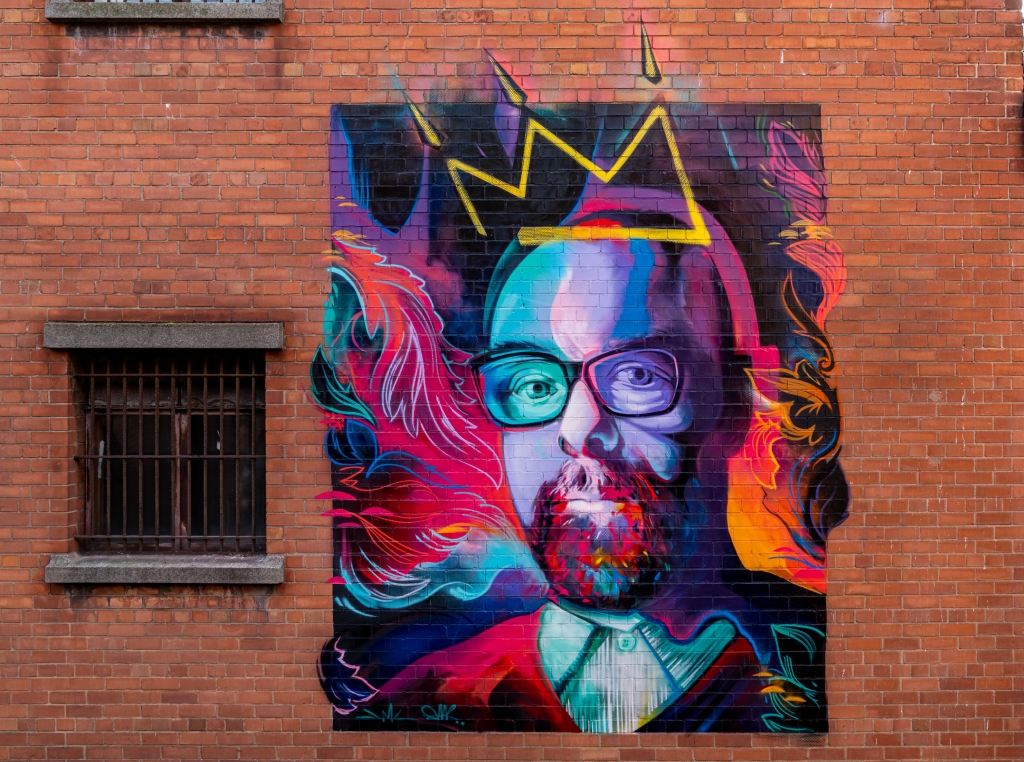 Fortunately, both paintings sit side by side. Stevie is glad.
"I think he was a catalyst… he kept pushing things and reaching out to people. Everything he seemed to be working with was connecting and then that brings in interest. Just to watch him bringing an idea from nothing to fruition. It's cool seeing someone doing that. And it gives you belief."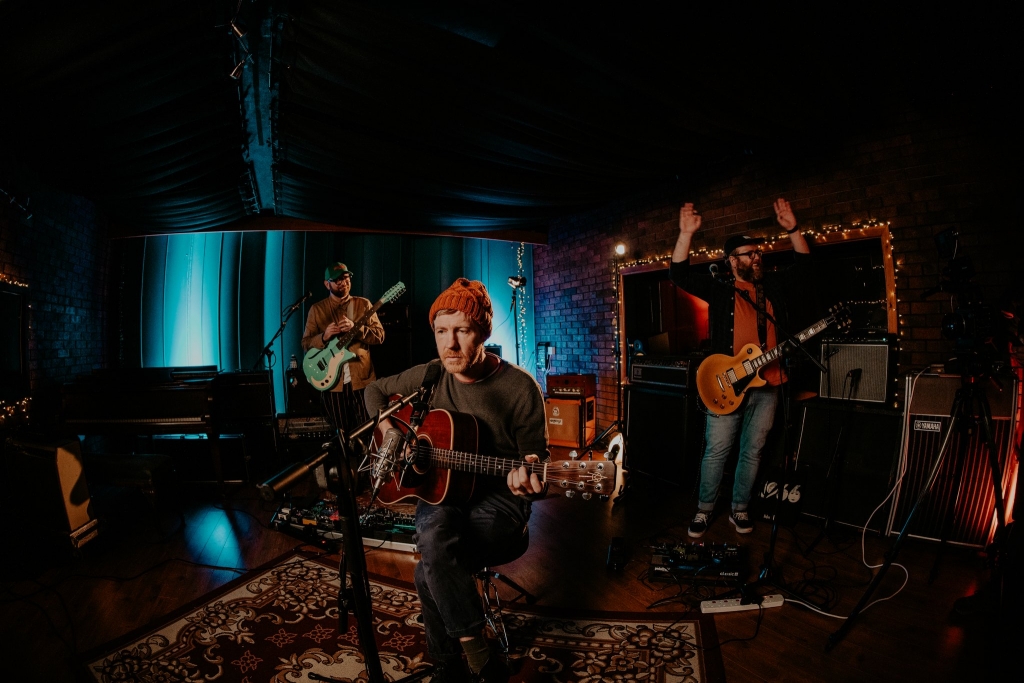 The event became a video documentary, screened by the Oh Yeah Music Centre during their Sound of Belfast festival. It was shot and edited by the Smarts agency, led by Lyndon's old friend Andrew Campbell. It featured live music from Malojian and Christopher Coll, and was presented by this writer, who had also taken the Lyndon photo in the stairwell Oh Yeah in April 2019. There was also a contribution from Lyndon's wife, Lisa Flavelle-Stephens.
"It's really fitting that Lydon's face is gonna become part of the cityscape," Lisa said. "For me, Lyndon and the city of Belfast are inextricably linked. In a way, I feel that the city isn't the same without him here. But at the same time, there's a bit of Lyndon that will always be in Belfast. It's so nice that he's gonna be remembered in this way."
Stuart Bailie
Watch the Lyndon video here: