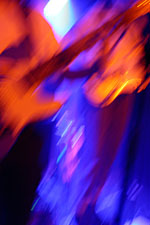 'Holy Show' is the first affirmative moment of the night and it's the best. Pillow Queens putting a voice to difficult times, watching the replays and then walking out of the ruins.
We project our own feelings into songs of course and 'Holy Show' may have other readings. But for some of us, it became a soundtrack to lockdown and all of the self-examination we put on ourselves. It was about fading horizons and bad decisions but importantly, it also sang of escape and a life outside. 'Holy Show' was like 'Born To Run' or 'Land' or 'Running Scared'. Every time you listened back, you could hear the glimmer of deliverance.
It's a brilliant mark of confidence that they play it first tonight. They banish the spooks and move on. Many people are emotional. Pillow Queens gave us a magnificent album, In Waiting, but we could not hear it live. So many songs that needed to be shared and admired and celebrated in the counter-culture. We wrote about similar stuff in the recent Joshua Burnside review but no matter: we are with good people and sharing stuff and it's unutterably fine.
They play so well in Belfast. The simpatico voices of Pamela and Sarah. The way that Rachel causes a rumble on the floor tom and all of the fantastic moments when Cathy leans over her Telecaster and makes the instrument squall, like so. It's an invitation to Paradise City but y'know, not that Paradise City.
Therefore 'Child of Prague' is strangely faithful and 'Handsome Wife' has the shredding guitars at the end that cause you to rock, literally. There's an outbreak of slow dancing for 'Harvey' and a solidarity with all the tender souls that have ever been stranded at the drive-in, branded a fool.
It's a lovely, empathetic, drift. The nod to family but the insistence that the old nuclear format is no longer the only game in town. The scrounge existence of 'A Dog's Life' and the throwdown of 'Gay Girls'. A couple of new tunes sound swell, particularly Pamela's sentiments on 'Be By Your Side', which has the champion riffs and the unbending declarations.
They steer it home with 'Donaghamede' and the backwater pride that we used to admire Morrissey for. 'Rats' is triumphal, time for Sarah to hold the mic stand over the audience and to hear that lash of approval. Lastly there is 'Liffey', that turbulent vision, a reckoning with the hometown and the waters that may never wash all of the contagion away. Dublin is presently on the tour schedules, but these are horrendous times. Pillow Queens so deserve their holy showdown.
Stuart Bailie

Pillow Queens, Ulster Sports Club, Belfast, 02.12.21