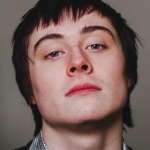 Touts. What a top mess of noise and sedition, punk and petulance. Tunes that run out of road after a minute and a half – every second screeching with need and urgency. Songs about walls and clampdowns, shameful deals and base electioneering. A realisation that the vision might be compromised and lost in transit. But still there's a sway in being engaged and inflamed, seeking transcendence in Saturday thrills, in the reckoning of a back alley or in a brute chorus.
Touts are informed by Derry. No question really. That's another mess of upset and bad history, division and people power. Currently a music town that's sharp on sexual politics and gender issues. A venue like Sandino's is literally designed to amp up the revolution. So while Touts were fostered by The Buzzcocks and The Undertones, by the dynamism of Wilko Johnson and teenage Weller, their conditioning is also in the streets and the discourse of the Maiden City.
Just over a year ago they were teenage R&B amateurs, playing the Feelgoods and 'Louie Louie' and 'Casbah Rock'. They had genned up on the Stones after a discovery of 'Paint It Black' on Guitar Hero 3. The name change was provocative of course and paramilitary informers are still under death threats on the gable walls. More original songs crept in, and while the local detractors wrote them off as a cover band, they became spikey contenders by stealth. Here are the songs that matter thus far:
'Sold Out'. The first 'proper' Touts single, on Hometown Records. Essence of Clash plus rabid throwdowns and hieroglyphs in the tradition of 'Motown Junk' by The Manics. The lyrics may reference soul-crushing economics and distractionary ruses.
'Political People'. Arguably their best song thus far. Heightened anguish and mystic squalls. Their 'Complete Control'. Singer Matthew says: "I only got into the Clash when our music started to sound like it. Before I'd every given them a chance I'd always dismissed them as I thought the Sex Pistols were better. I wasn't really bothered about punk other than The Undertones and The Buzzcocks. I was more into that side of punk. But now I have nothing but respect for The Clash – I think they're fucking brilliant."
Also the moment when Matthew sounds most like Jake Burns from Stiff Little Fingers. "He (Jake) was into Dr. Feelgood and Rory Gallagher, just the same as me. So if people say that, it's a compliment."
And the process of writing such a lyric?
"I didn't really plan to write a political song I just thought, I have to write another song. And then a People Before Profit leaflet came in the door. That's how that happened. It's not political. It's political commentary, more."
'Bomb Scare'. Martial drums by Jason, who rumbles hard yet has a barely concealed jazz affinity. This is pure Topper Headon, precision and sass. Aided by the presence of a brief but emotionally rich guitar solo. Written by accident after they tried to perform 'At The Zoo' by Simon & Garfunkel. Alleged reference to the refugee crisis.  All three of the above songs were featured in a flaming radio session on Across The Line.
'Mickey'. Amusing put-down of a local scenester-gatekeeper, who's "on his way to get his pension". By the end of the tune, they decide that he's not really so bad. Hence the chorus: "Mickey's a Tout… a dirty stinking Tout". Hey, simpatico. Sprit of Feargal Sharkey, circa 'Smarter Than You'.
'No Name'. One of the more recent tunes. Guttersnipe view of global conflagration.
'Saturday'. Teenage wasteland revisited. Written by bassist Luke. And y'know, Sunday's coming like a jail on wheels…
'Marty'. Last year's local single release. Shouting, speed jive. Producer Rocky O'Reilly at Start Together Studios got into the spirit of things and replicated some of the Bill Price method and machinery that made the first Clash album such a boss experience.
'Stay'. The first cover that the formative Touts played was 'She Does It Right' by Dr. Feelgood. And here's some of that choppy Telecaster, all angles and vim and joy. Tremendous. See also, The Jam's version of the Larry Williams tune, 'Slow Down'. Maximum verve, singular R&B. Such a band.
Stuart Bailie
Touts play the Nerve Centre, Derry, April 29