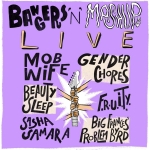 Gender Chores play a version of 'Brand New House' by Mob Wife. Later in the night, Mob Wife play the song again, but somehow make it sound like Gender Chores. A tribute to a tribute. Everybody cheers. Good work, Bangers 'N' Mash (Ups).
Here's something that flourished in the summer of 2020. It became an online album of pals and peers, respecting and reinventing each other's work. Bangers 'N' Mash (Ups) raised funds for She Sells Sanctuary / Women's Aid. It was a support network when gigs were impossible and it transmitted creativity and soul.
The newspapers were full of stories of domestic abuse when the Bangers 'N' Breakups album came out this February. Again, it was a musical intervention, a community that could not be properly present, but was determined to collide for a cause.
Now there's a chance to witness the Bangers idea as a gig that's rowdy and alert. It takes place at the Oh Yeah Music Centre during the Sound of Belfast programme and it feels like the best school reunion.
Three members of Problem Patterns are moonlighting as Big Frances' Problem Byrd. The form is punk rock, unapologetic and Ciara plays drums. They do 'Gal Pals', which is kind of mandatory and a new Alanah song that brings the nous and the noise.
A decade ago, Dan O'Rawe played with Ciara in a band called Basic Translation. They are reunited this evening but F.R.U.I.T.Y. is essentially Dan's bag – electroclash, spoken word and some audacity. 'Baby Blue' contrasts the abrupt Belfast vernacular with quiet terms of endearment. He sings the Bauhaus tune, 'Bella Lugosi's Dead' and together with Ciara, he visits 'Broken Vessels' by Sasha Samara, who is in the house, astonished.
Gender Chores have songs that plot the era of Repeal and Love Equality and you might assume that they have a historic dimension. Granted, Arlene Foster has moved aside but many of the issues are unresolved and the intolerance endures. Also when Sam mentions the rape trial that's in the 'Territory' context, you also relate to unfinished business. So, the rage is ever-relevant.
Sasha Samara was great on the stages of Stendhal and she's also at ease in this more raggedy situation. She gulps tea from a flask and talks semi-randomly. The ukulele is in tune and the bad relationships are over. Her tribute is for Beauty Sleep and 'The Feeling'. And that's eventually how the evening transpires, with Cheylene and Ryan onstage as a clipped-out synth duo. Beauty Sleep recall old times on 'The Dark' and sign the show away with 'Go'. Many of the Banger brigade are dancing at the front and the mash-up has mattered.
Less than day later and some of the people have regrouped at the Black Box for a Sunday afternoon of queer country, delivered by Outburst Arts. Firstly, it's a live recording of the radio show, Fist City, named after a fierce song by Loretta Lynn. The broadcast has a mission to rescue the music from its hetronormative habits. The DJ is Ryan Fitzsimmons and this festival transmission is an alternative steer across roots, blues, western swing and the luscious emotions of the Nashville Sound.
So we go from Ma Rainey to Johnny Ray and k.d. Lang. We hear of lavender cowboys, drag queens and limousines plus the swelling heart of Wilmer Broadnax, singing gospel as a trans man with the Golden Echoes.
Thus prepped, we watch the live debut of Cryan. The name is a composite of Ryan and Ciara (from Problem Patterns) but the stage is accessorised by Dan from F.R.U.I.T.Y. and the artist Isabella Coban. Red roses at the mic stand and gold lamé for a backdrop. It might be the Broken Spoke in Austin or the Bang Bang Bar in Twin Peaks. You decide.
Cryan dress in style and 'Rodeo Queen' fits well. Ryan hauls at the tremelo of his guitar to max up the woozy effect. There's a song with excellent whistling potential and then a salute to Orville Peck's 'Dead of Night'. The ache is astounding, even if the execution is messy. Further along Hill Street, Belfast, the bars are unpleasant with 'Brown Eyed Girl' and Ed Sheeran Covers. So excuse us if we prefer to stay here awhile, thinking of a strange canyon road, in a stark, hollow town.
Stuart Bailie
Photos by Stuart Bailie
Bangers 'N' Mash (Ups), Oh Yeah, Belfast, 13.11.21
Fist City Radio, Cryan, Black Box, Belfast, 14.11.21