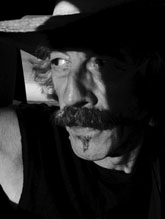 At the opening of a QFT retrospective on John T. Davis, we see a 20 minute sample of his ongoing film, Mshiikenhmnising. The artist is 70 and he has reprised many of his themes. America is an expanse, a colour field, a challenge and a con job. Like Walt Whitman, he is drawn to the rhythm and the fervour, those haunting chimes of freedom. He connects to this tradition through the beat poets and their outsider prosody. It's about the groove, the riffology, the swing of it all.
Often the camera is locked-off on a cobalt sky, a railway line, a John Ford landscape. There's the vapour trail of a jet and farm machinery at work in a vast harvest. John T Davis narrates in the jive-Biblical manner of Allen Ginsberg. He remembers the Cold War, plutonium anxiety and the degradation of the dream. Mshiikenhmnising relates a Native American creation myth of the Iroquois and Lenape. It holds that the continent was formed on the back of a giant sea turtle. John looks for the extant soul of the place and his film is a statement of belief.
He opens this film series in conversation with the critic Mike Catto. There's a chance to remember the verve of Route 66 and the revelatory depth of Hobo. He connects the evangelical voices in Dust On The Bible and Power In The Blood. The latter follows the Tennessee preacher Vernon Oxford to the Maze prison. The warders have a country music society and dress up as cowboys in their spare time, trading their actual firearms for plastic six guns. John is 'saved' by Vernon in a bedroom of the Europa Hotel. He talks in tongues. "I was high as a kite for two days afterwards."
Shellshock Rock is a wonderful punk film that contrasts the dread of Belfast with this affirmative youthquake. It was his breakthrough in 1979, endorsed by D.A. Pennebaker, a major influence. It led ultimately to the filming gigs on the One Irish Rover documentary – with Van and Dylan at the Acropolis, also with Van in thrall to John Lee Hooker on a jetty in Louisiana. One take, one camera. Raw, unearthly music being fetched from the aether.

John T. Davis is a North Down hombre, a ornery cuss and much of his biography features in The Uncle Jack, that 1996 family ramble. There was a concern that the film-maker's story was going to taper off, but this career overview provides him with scale and gravitas and Mshiikenhmnising promises to be the most astonishing summation.
Stuart Bailie
John T. Davis in conversation with Mike Catto, QFT, 03.03.17