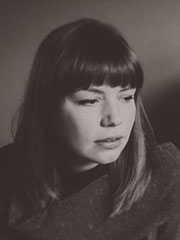 Come on in if you favour a piece of elegantly cloaked heartbreak, a spooked-out waltz, a deal of silence and maybe some looping fatalism. The Darkling Air provide all this on their debut album, 'Untamed & Beloved'. There are strings and sense of scale. The vocals are measured and sorely present. The stories often take place offstage, but that won't stop you becoming absorbed. You will hang with the pauses and hold out for a decent resolution, for a chance that the light may win over.
'Storyline' was the first tune we heard from this collection. A regretful piece with the sophistication of Burt Bacharach or Carole King. Yet if there was a nod to the Brill Building school, then the song was also informed by Irish composers such as Mícheál Ó Súilleabháin. You could sense it in the edgy piano lines and the subtle lifts from traditional music. Quite the combination.
It's the work of Rachel McCartney, formerly with The Farriers, plus Michael Keeney, who writes and also arranges for the likes of Foy Vance and Duke Special. They are joined by the Arco String Quartet and Isobel Anderson. The songs are filmic in the sense that they rely on tone and suggestion, rather than tidy choruses and catchlines. At best it is twilight, but the default is noir.
On another day, 'Relics' might be an inviting ballad but this time it descends into a swirling morbidity. The title track gets a deal of its energy from those teetering arpeggios and one of the rare instances when the music gets to swell and affirm. 'The Darkling Air' is a hymnal with a long black veil. The many listeners who have been entranced by the two albums from The Gloaming may sense a common pursuit of mood and mystery, folk strains and the call of the new.
Not every track claims you but it works as a sustained set, an invitation to get profoundly lost.
Stuart Bailie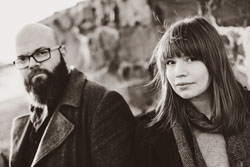 The Darkling Air launch 'Untamed & Beloved' on August 25 at Queen's Parade Church, Bangor. Part of the Open House Festival. Ticket info here.